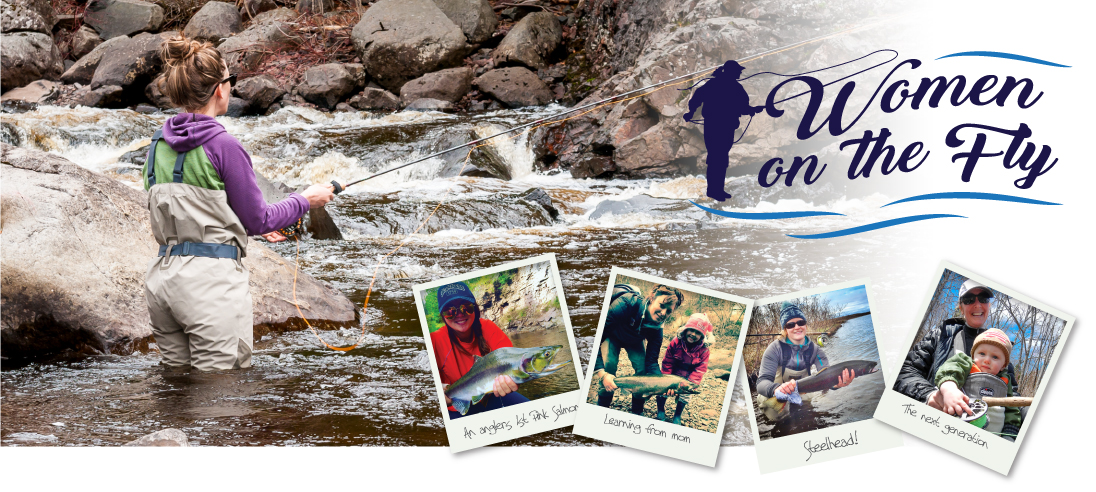 Women on the Fly
A sisterhood of Minnesota Anglers.
Women on the Fly is a Minnesota Steelheader program specifically for female anglers of all ages aimed at discovering, learning, and sharing the fundamentals of fishing our North Shore streams and rivers within a fun and supportive culture.
What is the Women on the Fly Program?
Women on the Fly is a program provided by Minnesota Steelheader that strives to meet the many needs of women anglers today. Within the program is our annual streamside clinic. This is an on the water event for beginner through advanced female anglers (of any age) to learn and share the fundamentals and joy of fishing our North Shore area streams and rivers within a supportive culture.
The clinics and events we offer provide ladies who are interested in steelheading, stream trout, or shore fishing, but may have limited experience or equipment, an opportunity to gain the perspective and knowledge needed to begin their own North Shore fishing quest.
Our clinics are on the water experiences. Not only will you learn about the fishery, but you get some great guided fishing as well! You will also have ample opportunities to ask questions and get one-on-one time with our staff. Please visit our website for other clinics and events available for Women on the Fly.
Our 4th annual WOTF streamside clinic will be held May 18th, 2019. Visit our website and follow the links to the Women on the Fly Page to register.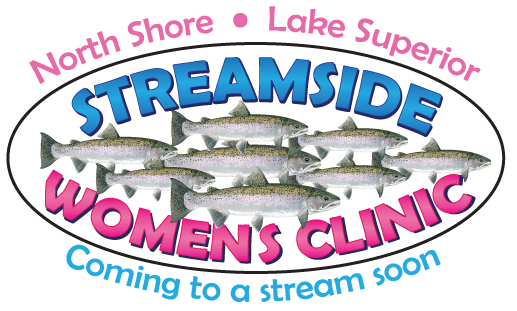 Next Clinic Details:
Date: 2024 – TBD
Time: Typically 10:00am – 1:00pm
Location: Middle Shore River – North Shore, Lake Superior*
*River destination and map will be provided upon registration
15 and under – open donation
Students – $15.00 min. suggested donation
Adults – $30 min. suggested donation
What is the Women's Streamside clinic?
Minnesota Steelheader's Women on the Fly Streamside Clinic is a chance for novice and intermediate steelhead anglers to learn the fundamentals of fishing our North Shore streams and rivers. The clinic also provides ladies who are interested in steelheading but have limited experience, an opportunity to gain the perspective and knowledge needed to begin their own steelhead quest.
This is an on the water clinic. Not only will you learn about the fishery, but you get some great guided fishing as well! You will be able to ask questions and get one-on-one time with our staff. The clinic also serves as a meet & greet for the women that fish the north shore and those who are interested in becoming "Women on the Fly". It's a great environment to meet and connect with other like-minded ladies. From sharing experiences to getting advice, women can learn a lot from one another!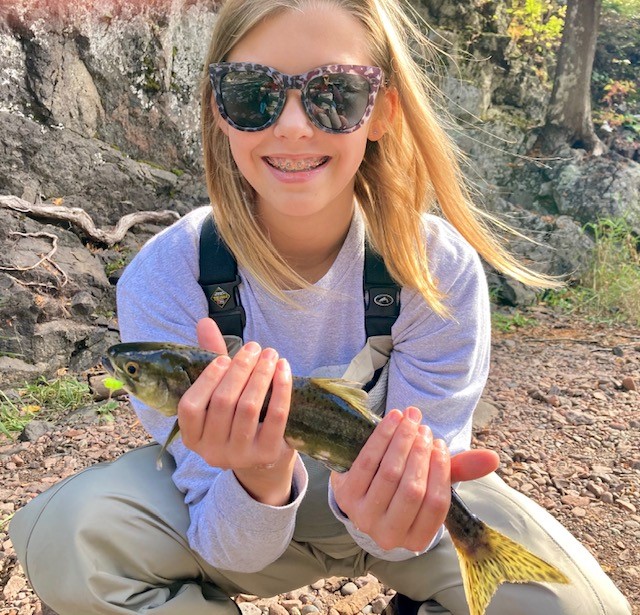 Who can Attend?
This clinic is open to all who are able to freely maneuver the root covered dirt and rock trails along the banks of the river. Most find the trails to be the easy part. It's the walking on rocks and light wading that requires a good sense of balance. Note too that we focus on entry level wading – no crazy deep water, most is less than knee high.
We strongly encourage moms, sisters and daughters to participate in the clinic. Need an excuse for a girls fishing trip? Here it is! We limit this clinic to 12 anglers. So register early!
What Does it Cost?
There is no cost for this event, but we suggest a minimum donation. Our volunteer staff is donating their time and talents to teach and guide during this wonderful clinic. All donations received for our events and clinics go right back into funding future clinics, community events, fisheries projects, and to further our conservation and outreach efforts. This clinic like all MNST clinics and events are only possible because of your generosity.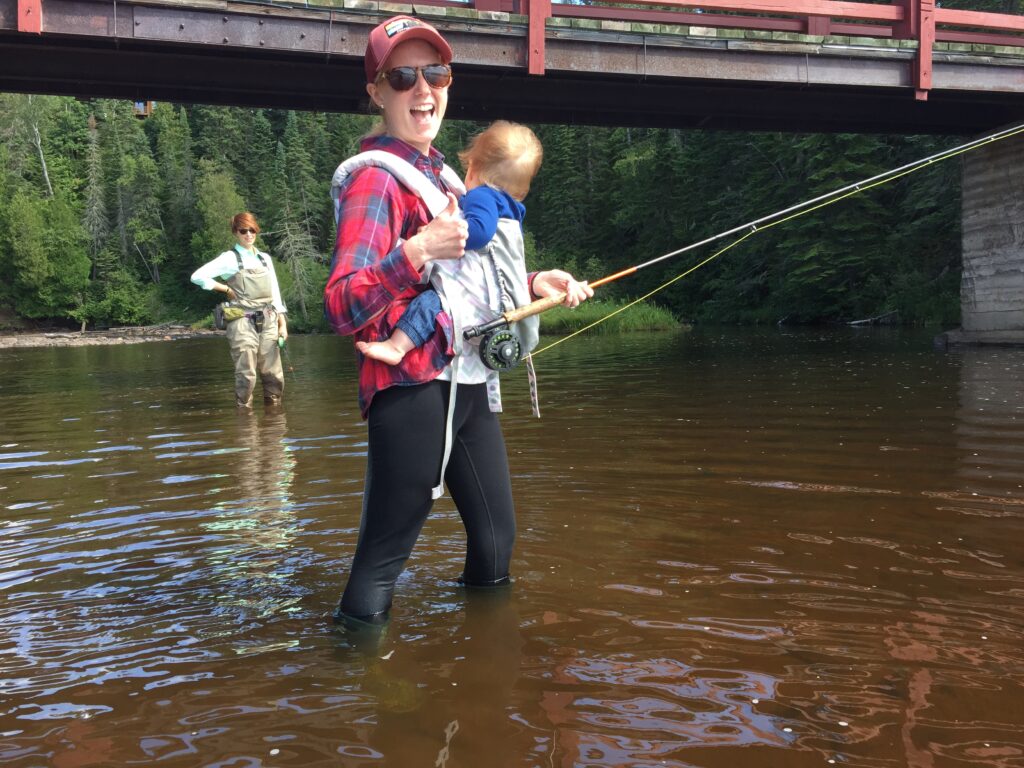 What will you learn?
We review fishing equipment that is suitable for the techniques commonly used for steelheading: rods, reels, line, knots, flies/yarn, and misc extras.
We give a brief summary on steelhead/Kamloops and the spring spawning run. We also go into detail on how to read water and provide some tips on safe river crossing.
After some general overview our staff of male and female instructors will split the group and hit the water so each group will have some hands on instruction on locating fish, fly/yarn selection, and presentation. Note this is not a casting class but some assistance will be provided as needed.
What you need to bring:
First and foremost bring a positive attitude. You will also need to supply yourself with a fishing license with trout stamp, your own fishing equipment (rod, real, line, flies, waders, rain gear, etc.). We also strongly suggest polarized glassed, a camera, water and snack. If you have questions on gear or equipment prior to the event, soot us an email.
What will MS provide?
We provide a handout with some information on our fishery, what swims our waters, and the basic gear used. We also will have hands on stream-side angling instruction and assistance for participants by our seasoned instructors.
Suggested Equipment:
6 – 8 weight Fly Rod: 8 weight is a great spring rod, 6 weight is good for summer and fall. 7 weight is a good all around. If you plan too focus mainly on Steelhead, an 8 weight is our suggested rod.
6 – 8 Fly real with backing: This can be spooled with floating fly line, or running line (specific for drift fishing).
Running line can be either floating fly running line or 14 – 17lb. bright colored monofilament. This method does not follow the traditional fly casting technique, but rather more of what is called, chuck & duck. Weight is added to the line to help deliver your fly rather than relying on the fly line to deliver. We discuss in the presentation the value and effectiveness of each.
Flies: We will have some for use, but it is fun to have your own personal selection. We use a lot of egg patterns in pinks, orange, chartreuse, red most of the shades in between, sized in 6 – 10. Wooly buggers (sized 6 – 12), wooly worms (6 – 12), pheasant tail type nymphs (sized 8 – 14) work well as the water warm. Bright streamer patterns, and variations on nymphs that have some flash.
Waders: Hip boots will work, but we find waders a better option. Notice in the pictures on this page, anglers are kneeling or sitting in the water to release fish and for photos. There most angers rarely go above the waist, the added coverage is good security
Wader belt: Safety, Safety, Safety. Most waders come with a belt. Nothing fancy is needed, heck a rope will likely do. We prefer a belt made of a durable quick-drying material and a quick release buckle
Some other suggestions: Wading staff, net, forceps (hook removal), sunscreen, rain gear, warm base-layer clothing, and a camera.
Sunglasses – POLARIZED: A must have. They cut the glare allow great visibility in the water and cut down on fatigue from the sun.
Hat: Great for cutting down glare and protection from the sun
Wading boots: If using stocking foot waders (our favorite) we recommend good boots with either felt or the new alternative to felt design. cleats in the boots are a plus.
How To Information & Articles
Click on the PDF document links below